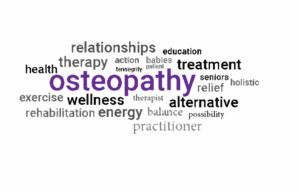 Expand All
|
Collapse All
1.

WHY CHOOSE OSTEOPATHY?

Osteopathic manual practitioners assess and treat your body as a whole. Symptoms sometimes show up in a different part of your body from where the problem actually is and/or there may be several factors contributing to the symptoms you experience.
Osteopathic treatment is efficient, which helps to minimize the number of visits you need. It also promotes the body's own ability to heal itself through means of safe, non-intrusive therapy and with as few side effects as possible.

2.

WHAT DO OSTEOPATHIC MANUAL THERAPISTS TREAT?

Muscle and joint pain, arthritis, sciatica
Chronic pain, fibromyalgia
Postural stress
Repetitive strain injuries (tendinitis, carpal tunnel, plantar fasciitis)
Headaches (tension, migraine)
Insomnia, fatigue
TMJ dysfunction
Traumatic injuries (sports, whiplash, falls)
Digestive difficulties (reflux, bloating, constipation)
Respiratory disturbances (asthma, bronchitis, shortness of breath, shallow breathing)
Gynaecological problems (PMS, irregular or painful periods, difficulty conceiving)
Incontinence, pelvic organ prolapse
Post-surgical pain, scar tissue and adhesions
Emotional distress and anxiety

3.

WHO CAN BENEFIT FROM OSTEOPATHY?

Treatment is safe and effective for:

Autoimmune disorders
Pregnant women
Newborns and infants
Toddlers and older children
Adolescents

4.

WHAT HAPPENS DURING AN OSTEOPATHIC APPOINTMENT?

I believe in getting to know you – not your disease. At the initial appointment, we will discuss your current symptoms, health history, and lifestyle patterns. I will complete a hands-on assessment to detect problem areas and prioritize their impact on your health.

I request that you come in or change into comfy, relaxed clothing so that I have access to all areas of your body.

5.

HOW MANY TREATMENTS DO I NEED?

It is important to allow time between visits for your body to adapt to the treatment. In the days following your treatment, your body will continue to adjust and re-balance, relieving the original symptoms as well as promoting overall well-being.You may notice improvements in your pain, energy levels, sleep patterns, etc.

Sometimes you may feel relief for 3-4 days, then your symptoms may return. In other cases, you may experience post-treatment reactions, such as an exacerbation of your symptoms or detoxifying symptoms such as headaches, diarrhea, and fatigue before feeling improvements.

Follow-up treatments are normally scheduled 2-3 weeks after an initial appointment. A follow-up session allows me to assess your response to the treatment and address further obstacles to your recovery.

The goal of osteopathy is to stimulate the natural healing ability of your body. Many issues can respond to treatment in 2-5 sessions, while longer-standing conditions may require more treatment.